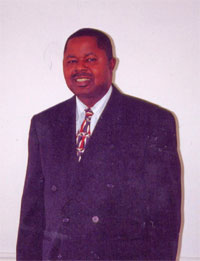 The calling of Samuel, did not come as early as most ministers and it probably was designed by God to allowed him to experience both world s so that he can have a solid, unshakeable, and a humble stand in the Kingdom. Like Moses, he is very compassionate and curious, and yet reluctant to embark on any mission unless he directly hears from God.
There is a belie f that is embedded in Samuel 's heart that is God is not a respecter of any person, the Sprit gives life, twist and takes away but not until your mission is accomplished on this earth. You are predestined for a purpose and nothing can cut it short, not even principality, for my gift and calling I will not recall, says the Lord to Samuel, a conversation he recall very clearly in 1992. Remembering this episode, he was sore afraid for he has the worldly opinion that preaching the gospel is reserve for those who are academically challenged. But he went through all required process of education: Primary School, Grammar School, HSC, College and Master's Degrees in Public Policy Administration. He was very concerned that he has to go through these process es with all the finances attributed to th is education, for h is acquaintance is throughout his Catholic upbringing who left for Bible school after their first education.
This curiosity range he started noticing some changes in the type of people that are sent his way each time he visit Nigeria, his native country. They are genuine Minister of the gospel, Spirit filled and having a good success. Suddenly, the prayer that he prayed as a Catholic was being answered and that is "Lord, I have been buying used books, used motorcycle and used cars, when is it time for me to marry Lord, I want to be the one to unwrap my gift" and it was so and on about June 1993 a precious pretty pastor's daughter was sent his way on one of those visit to Nigeria. He was like John the Baptist busy baptizing his brethren in water and looking up and seeing Jesus with that unforgettable subtle voice this is my son with whom I am well pleased. The voice sound alike accepts that the words were different and Samuel immediately heard his prayer of many years ago and fell upon his face and worship God with his wife to be. Barely a year latter, this settle voice came again in a Sunday midnight hour and said, 'Samuel you are to announce the year of my Grace unto you and celebrate the destruction of you enemies' he woke up and the room was lit up and he said to himself this is the Spirit of God. He immediately picked up the Bible under the pillow and the first place he opened was Isaiah 61:1 'The Spirit of the Lord GOD is upon me; because the LORD hath anointed me to preach good tidings unto the meek; he hath sent me to bind up the brokenhearted, to proclaim liberty to the captives, and the opening of the prison to them that are bound. To proclaim the acceptable year of the LORD, and the day of vengeance of our God, to comfort all that mourn. To appoint unto them that mourn in Zion, to give unto them beauty for ashes, the oil of joy for mourning, the garment of praise for the spirit of heaviness; that they might be called trees of righteousness, the planting of the LORD, that he might be glorified.' As he read through he realized verses 4 & 5 glows and he was frightened and the soothing voice came and said 'this is where I am taking you and your preparation has started, you start with love and acceptance and obedience will be your guide post" and the light went of the room and he woke up and cried that all he read about in the scriptures are true.
In 1996 the Lord gave him a ministry name, World Outreach and Evangelistic Ministry and two years later he was ordained as a minister of the gospel in Tennessee. He has traveled many countries with other anointed ministers. Samuel believes that when the Lord called, he want us to listen to instructions that come next rather than acting on impulse.
Samuel is married to his beautiful wife; Prophetess Stella. They have four children Miracle, Emmanuel, DePaul and Sarah Favor. In addition to our work with AMC, my wife and I pastor a church in Atlanta, Georgia. Please visit our web site at www.WOAEM.org.
EDUCATINAL BACKGROUND
Bachelor of Science 1984 University of Central Arkansas,
Masters Public Policy Administration 1985, Southwest Missouri State University,
Certified System Engineer (MCSE) 2000
Cisco Certified Network Associate (CCNA) 2000
MINISTERIAL BACKGROUND
Ordained/Licensed, United Christian Church & Ministerial Association, Tennessee, USA.